Create Your Collaborative DREAM TEAM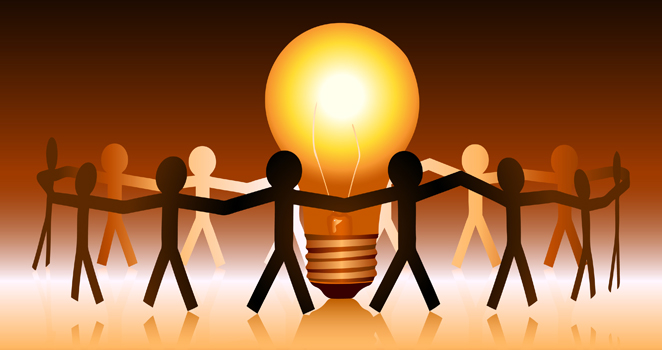 If you want to create an emotionally intelligent, super productive, collaborative team that is grounded in a sense of meaning and purpose and capable of producing extraordinary innovations, You've come to the right place!
• Open Mind Adventures will facilitate dialogues that identify the future team members want to create together.
We'll help you build ownership and accountability in making this so.
• We'll encourage members to express their points of view and honor diverse perspectives.
Members will learn to listen beyond reactivity and everyone will become an idea generator.
• We'll teach them the exquisite subtleties of communication that can unite and energize a team.
We'll encourage them to bring their hearts to work.
• We'll guide them in discovering ways to reduce stress and support each other when the pressures of multiple demands feel like too much to handle individually.
and much more……
Consider these examples of our track record
• Aimee Bernstein consulted and coached the Sr.V.P. of R&D/QA of a world-class beauty company assisting him in developing an emotionally intelligent, collaborative senior leadership team which then rolled out the collaborative approach throughout their division. This resulted in sixteen innovations currently in development, a leap in employee engagement and accountability, and a culture based on shared ownership for change in which people said they were working harder than ever but are having more fun.
• Our collaboration work with trauma surgeons and E.R. doctors helped them save their trauma center. It is now considered one of the best in Florida.
• We facilitated the development of a shared vision and productive ways of working between management and union of a county's emergency services division that produced a 90% reduction in grievances and the easiest negotiations they had experienced in years.
Our Collaborative Team Services
• Team Assessment to identify team strengths to build on and team weaknesses to upgrade or strategize through. It also includes an inquiry into team processes, systems and leadership effectiveness.
• Enneagram for Leaders Training to help you compassionately understand yourself and others–an essential ingredient for collaboration. For more information, click here
• Team Learning Journeys to discover enhanced ways of working together. The curriculum is development from specific team needs and includes experiential training as well as conversations that matter. Our collaborative team approach is based on five paradigm shifts essential for success:
– Our way (shared vision) vs. MY way
– Inclusion vs. exclusion
– Dialogue vs. monologue
– Proactive vs. reactive
– Power vs. force
These learning adventures are offered in retreat settings or at your location.
• Quarterly Updates to evaluate the teams progress and realign when necessary.
• Individual Coaching on a voluntary and as needed basis. These are offered in person or virtually.
• Conflict Resolution Services when needed.
• Mindfulness in Action sessions to build high performance under pressure, resilience, and enhanced productivity.
Testimonials:
• "As consultants to the Broward County Executive Leadership Team, Open Mind Adventures™ has assisted us in creating a new vision of our group as a community which shares such values as authentic communication, caring and creativity. As individual coaches to members of our team and as facilitators/trainers, they have been focused on helping us make our vision a daily working reality. Although we are new to this journey towards community, I have already seen such results as an increase in collaboration among members, a heightened sense of caring for each other and the beginnings of a new level of authentic communication within the group."
A.G. Johnson Jr., Area President of a National Bank
• "For reorganization within the Emergency Services Division to be successful, long-standing issues of trust, communication and collaboration needed to be resolved. Ms. Bernstein and her partner were extremely effective in working with the many diverse personalities and agendas to bring about a better understanding and a more cooperative effort. As a result of this coaching and team building intervention, grievances were substantially reduced, tensions were lessened during contract negotiations and management and union worked collaboratively on a shared vision. I can't say enough about Ms. Bernstein and the good work she and her partner have done."
James W. Jordan, Director
Broward County Health and Public Safety Department